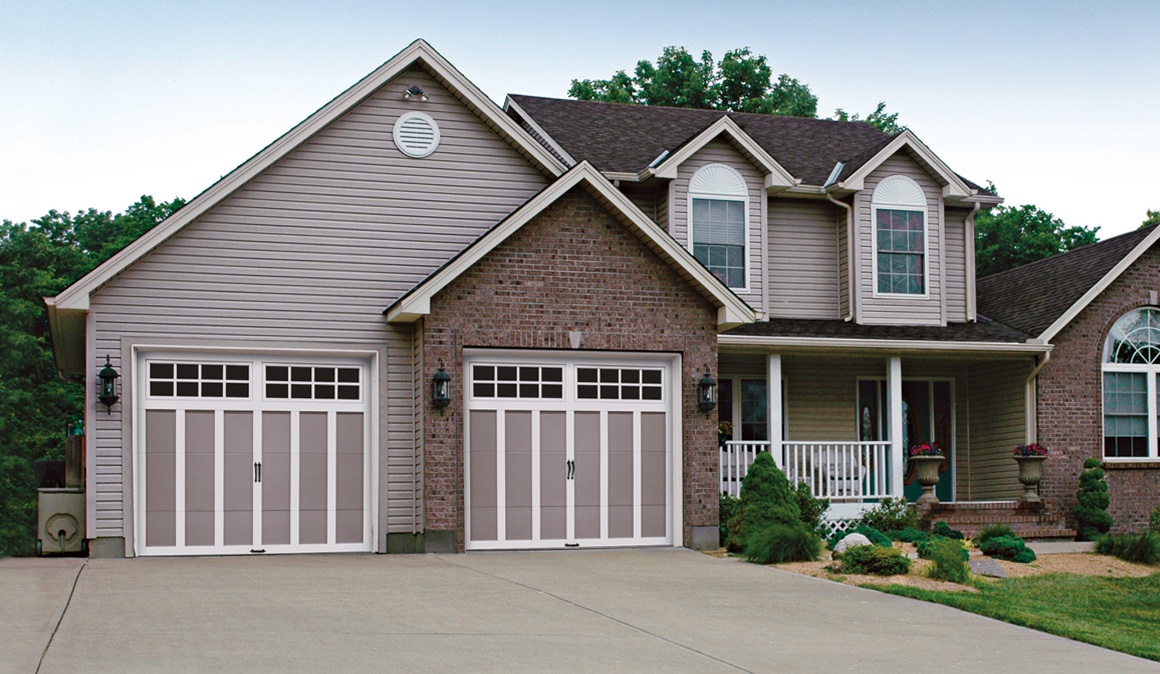 Steel and composite carriage house garage doors with or without insulation.
Every day at home should feel like a special getaway and with the GRAND HARBOR® garage door from Clopay®. Your Nashville area home can feel like it's been transported to your favorite coastline. This beautiful and charming carriage house style garage door is one of Clopay's most popular garage door designs available today. With its low-maintenance, insulation-optional steel frame and sophisticated design options, this carriage house style garage door brings your home a bit of that regal, traditional Cape Cod-inspired charm at a great value.
Contact us about this product
DOWNLOAD PRODUCT BROCHURE
by :


Versatile Design for Your Nashville Home
With Clopay's affordable GRAND HARBOR® collection, you have the chance to invest in a quality garage door and personalize the design to suit your specific tastes and complement your home's architecture without having to skimp on those important design details. GRAND HARBOR® garage doors are available in eight base door designs with distinctive trims, several decorative solid top sections in simple or intricate styles and four rich factory-finish paint colors.
Add Charm and Style With Designer Window Inserts
GRAND HARBOR® garage doors add character and a welcoming appeal to any type of home, but windows are that special finishing touch that can complete the overall look of your door — adding uniqueness, natural lighting and curb appeal. Garage door windows in the GRAND HARBOR® collection are customizable and available in modest and elaborate designer styles that are inspired by today's latest trends. They can complement nearly any type of home. Find our windows available in clear, obscure and acrylic glass options — GRAND HARBOR® window inserts are also complete with a beveled edge clip-in grille for both easy cleaning and the ability to switch out window designs as your tastes evolve. Whether you live in a contemporary home or a century-old farmhouse, GRAND HARBOR® garage doors can give your home added character.
Dependable, Long-Term Performance With Exceptional Construction Options
Most Nashville homeowners depend on the durable and reliable operations of their garage doors every day to leave and enter their homes. The last thing you want to worry about is constant upkeep from poor quality garage door solutions. Clopay's GRAND HARBOR® garage doors are crafted from the highest quality materials and extensively tested to provide homeowners with long-term performance, strength and protection in any type of environment. This collection provides a great low-maintenance garage door product for both new construction homes or as a dependable door replacement for existing homes. When you invest in a GRAND HARBOR® garage door for your home, you'll benefit from the best construction methods available today, including:
Smooth composite overlays are adhered to a flush 24-gauge steel door, with 2- or 1-layer carriage house construction.
Optional 1-5/8" vinyl-backed polystyrene insulation improves energy efficiency. Insulated doors have a 6.3 R-value.
Steel skins protected by the use of a tough, layered coating system, which includes a hot-dipped galvanized layer and baked-on primer and topcoat.
WINDCODE® reinforcement product available for high wind load applications.
To learn more about Clopay's selection of GRAND HARBOR® garage doors and begin designing a quality door that suits your lifestyle and aesthetic, visit one of Aaron's Garage Doors' showrooms today — conveniently located in Franklin and Mt. Juliet, TN, our team can find personalized solutions for your home and provide a free project quote.
Calculated door section R-value is in accordance with DASMA TDS-163.
LIFTMASTER
®
ELITE SERIES™
Clopay recommends the LiftMaster
®
Elite Series opener for these garage doors.
Door Designs
SERIES 1
DESIGN11
DESIGN12
DESIGN13
SERIES 2
DESIGN21
DESIGN22
SERIES 3
DESIGN31
DESIGN36
SERIES 4
DESIGN41
For more information regarding construction options per panel style,
click here
Top Sections
SOLID TOP SECTIONS - SERIES 1 & SERIES 2
TOP11
TOP12
TOP13
ARCH1
SOLID TOP SECTIONS - SERIES 3 & SERIES 4
TOP11
ARCH1
WINDOW DESIGNS
PLAIN SHORT
SQ22 - GH
PLAIN LONG
REC12
REC14
SQ24
ARCH1
GRVA1
GRLA1
XA24*
XG14*
XG24*
WROUGHT IRON SHORT
WROUGHT IRON LONG
DOUBLE TOP SECTIONS
ARCH3 - SOLID (Double Door)
ARCH3 - WINDOW (Double Door)
GRLA3 - WINDOW (Double Door)
GRVA3 - WINDOW (DOUBLE DOOR)
XA314 - WINDOW (DOUBLE DOOR)
XA324 - WINDOW (DOUBLE DOOR)
Colors
STANDARD WHITE
ALMOND
DESERT TAN
SANDTONE
*Available on select models. For more information regarding color availability,
click here
.
Color Blast Custom Paint Option Available.
Hardware Designs
CLAVOS
DIAMOND CLAVOS
ROUND CLAVOS
HANDLES
SPADE LIFT HANDLES
(standard)
ESCUTCHEON PLATE(S)
TWISTED "T" HANDLE
HINGES
SPADE STRAP HINGE
PLATES
SPADE STEP PLATE
(standard)
Smooth composite overlay
Steel
1 5/8" polystyrene insulation (optional)
Replaceable vinyl bottom weather seal in rust free aluminum retainer helps protect against the elements.
Grilles are removable for easy cleaning.
Patented Safe-T-Bracket® - Prevents serious injury that could occur if the bottom bracket were removed with the garage door closed and under tension.
Rust-Prevention System - Steel skins are protected through a tough, layered coating system, including a hot-dipped galvanized layer, a protective metal oxide pretreatment and a baked on primer and top coat.

Safe T-Bracket® Rust-Prevention System
Door sample is shown in white.